*Ford Certified Body Shop*
Hours:
Monday through Friday 8 am to 5 pm
Now Open Saturdays! 8 am to Noon
Phone:
321-254-3322
 Kelly Ford Collision Center

Accidents are never easy, but you can count on Kelly Ford Collision Center.
Making your repair process as seamless as possible and restoring your vehicle to its pre-accident condition are our #1 goals at Kelly Ford Collision Center.
Kelly Ford's Collision Center and Body Shop is the largest in Brevard County. A state of the art, I-Car Certified Collision Center, Kelly Ford is outfitted to handle everything from minor damage to frame straightening. We're an authorized and recommended body shop for many insurance companies.
Services
Collision Repair - Not all auto body shop facilities are created equal. At Kelly Ford, we have the experienced craftsmen and the latest equipment to tackle any job from a minor touch-up to a major rebuild after a serious accident or rollover. We carry a large inventory of genuine Ford parts, too, so we can turn your auto body repair around and get you back behind the wheel quickly.
Paintless Dent Removal (PDR) - Small dents can be removed without having to apply filler or paint. If your doors or quarter panels have had a close encounter with a shopping cart or a careless driver, we can help.
Paint - If you've ever spray painted outdoor furniture or a lamp, you know there's more to a quality car paint job than pointing a nozzle and pulling the trigger. Kelly Ford Auto Body Shop has state-of-the-art spray booths and master painters with decades of experience creating flawless automotive finishes. Bring your car in for a car paint job estimate and let us show you how putting a new finish on your car or truck can restore your pride of ownership and improve the value of your vehicle.
Frame Straightening - If your vehicle was hit hard, the frame may be damaged. And while you could get the cosmetics done elsewhere, filling and painting the dents isn't going to correct the underlying damage that will affect steering, accelerate tire wear and create problems with suspension components the longer you drive your car.
Aluminum Body Repairs - Aluminum vehicles are lighter, stronger and more fuel-efficient than their steel counterparts, but they do require special expertise to repair. Aluminum doesn't have the "memory" that steel does, so dents don't just "pop out." Our craftsmen have been specially trained to repair aluminum auto bodies. We've also built a special area solely for aluminum vehicles. This area is isolated from the rest of our auto body shop to prevent aluminum dust from contaminating other vehicles. As aluminum-body vehicles become more common from all manufacturers, corrosion caused by car paint and repair shops that do not have isolation booths will likely become more frequent.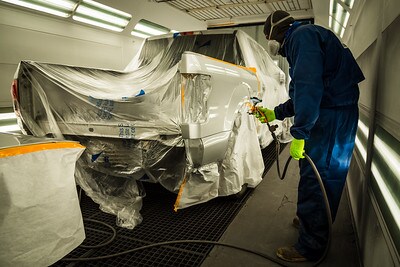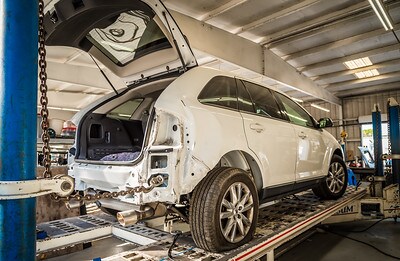 Insurance Work
You have the right to have your vehicle repaired wherever you choose. And even if your insurance company "recommends" one of their favorite car body shops, bring your car or truck to Kelly Ford. We'll do the work fast, we'll do it right and we'll do it at a fair price.
Customer Service
We've built a stellar reputation for great customer service in new and used car sales and service, and our auto body shop offers the same personalized care you expect from Kelly Ford. Don't take our word for it: Check our reviews online, talk to your neighbors, then bring your car or truck to us for auto body repairs you can trust.